Welcome To Lamp For Haiti
A Powerful Force For Health And A Beacon Of Hope In The Community We Serve
Who We Are
We are a nonprofit, nonsectarian, apolitical organization dedicated to providing health care and humanitarian aid to improve the lives of some of the most marginalized people in Haiti, among the poorest in the Western Hemisphere.
Our Work
We deliver quality medical care to the community of Cité Soleil, a slum on the outskirts of Port-au- Prince. Our committed staff has weathered hurricanes, earthquakes, civil unrest, and political turmoil to provide life-saving medical care to more than 15,000 patients a year.
Founding Story
Many Haitians live on 50 cents a day and can only dream of regular visits to the doctor, leaving many to suffer and die from preventable and treatable diseases. Lamp founder, Dr. James Morgan, knew that a brighter future and tremendous human potential could be unlocked with improved health.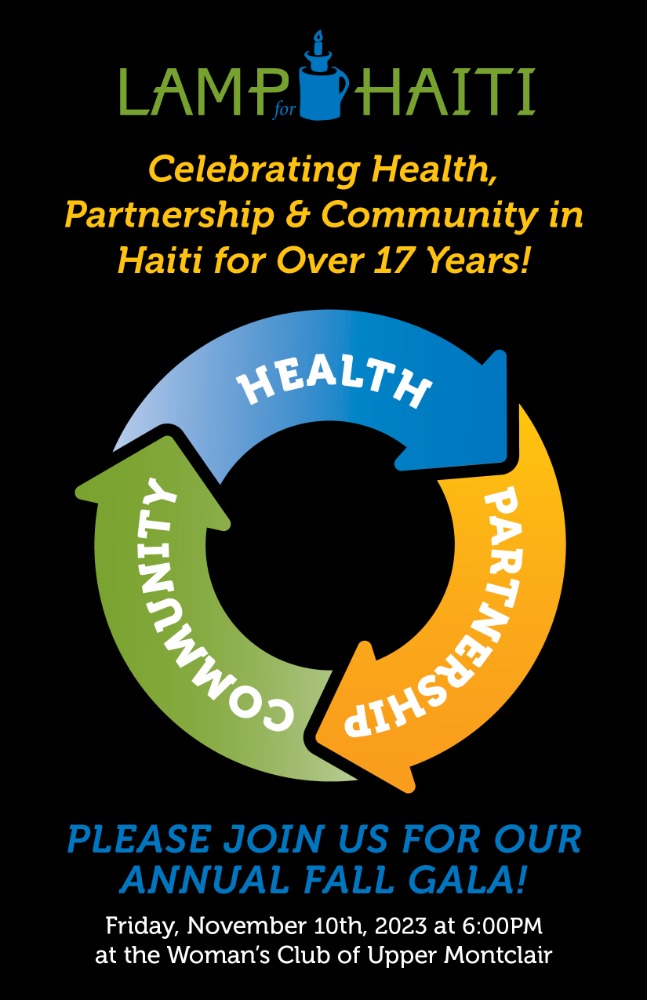 Lamp for Haiti Annual Fall Gala and Silent Auction
Friday, November 10, 2023
6PM to 11PM
Woman's Club of Upper Montclair
200 Cooper Ave, Upper Montclair, NJ
Join us for a night of fun and friends celebrating Lamp for Haiti and over 17 years of Health, Community
and Partnership in Haiti. The evening includes cocktail hour, VIP reception, silent auction, dinner, and
presentations by Lamp Founder Dr. James Morgan and others TBA. We'll close out the evening with
dancing to the sounds of live music performed by Vag Twoubadou.
For more information, please call 973.619.3302 or email kelli@lampforhaiti.org
Health, Partnership and Community
This year, we wish to emphasize those core values that characterize Lamp for Haiti's approach to work in Haiti; the values that are highlighted in our tagline: Health, Partnership, and Community. Each month we will publish a reflection on one of these three themes. The situation in Haiti is difficult, now. Our guiding principles allow us to keep a clear eye on our mission and that hope we have for a better future.
Your Giving Makes a Difference
Give with Confidence
Your donation helps ensure health care needs are covered for some of the world's poorest people. Click the button below to learn more.  
Lamp for Haiti recently scored 100 out of 100 from the charity rating site, Charity Navigator.  In 2020 Charity Navigator launched a newer rating system for smaller non-profits like Lamp. As part of this Encompass rating system, we scored 100 out of 100 for finance and accountability. Charity Navigator endorses charities that score 75 and above. 

Read the Charity Navigator report
Lamp for Haiti recently earned the platinum seal from the charity rating site, GuideStar.  This is their highest level of review. 

Read the Guidestar report
Blog
Updates from the clinic and messages from Dr. Morgan.