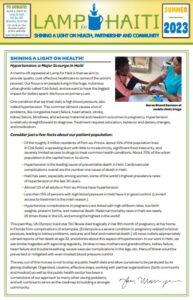 Shining A Light on Health!
Mobile Clinics Extend Care
Country Update Haiti in 2023
Fundraising Updates
A Letter From Dr. Morgan
Introducing Dr. Stanley Metellus
Upcoming Events
Spring Appeal 2023
A Tribute to Dr. Hyppolite
and Welcome to Dr. Vilpigue!
Fall Gala
Announcing The Torch Bearers!
Country Updates

Family Health Says It All!
A Brand New Child Nutrition Center
Hoops For Haiti
Spring Appeal 2022
To Be One In Uncertain Times
Haiti In Crisis
Volunteers: Keeping The Lamp Lit!
Profile: Sherley Marie Huerta Blaise
A Celebration of Lamp for Haiti
Meet Kelli D. Herd
Life Changes by Dr. Morgan
A Peak Into Haitian History
Community Health Workers
Henry Returns As Executive Director
Spring Appeal 2021
Cheryl Departs As Director of Development 
An Update On COVID-19 In Haiti
Meeting Rising Patient Needs
Lamp's First Virtual Gala!
Saving Wilson
Dedicated Professional Staff Are The Backbone of Lamp
Lamp Gala 2019 Was A Success!
Additional Organization Accomplishments 2019
Why We Do This Work
Lamp News From Cité Soleil
Health & Hope 6th Annual Gala
Quality Equipment Delivers Quality Care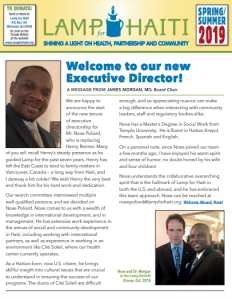 Welcome To Our New Executive Director!
New Health Informatics Specialist In Haiti
Spring Appeal 2019

Nutrition Program Expands,
Cocktails for a Cause fundraiser,
School Sponsorship Program: A Student's Progress

A message from Dr. Morgan,
The clinic gains ultrasound, Building community,                   Cocktails for a Cause fundraiser, 2016 fiscal year results

Working in the Community
Children are us! A new nurse and a growing Child Nutrition Program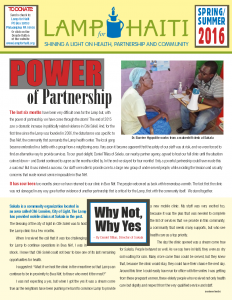 Power of Partnership Why Not, Why Yes — Sakala Director Daniel Tillias Letter from Haiti — James Morgan MD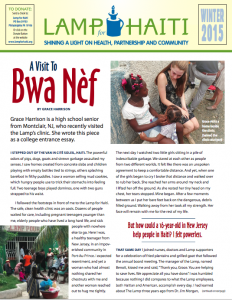 A Visit to Bwa Nèf – Grace Harrison Lamp 2015 — James Morgan MD The Story of Mr. Memnon — Barrère Hyppolite MD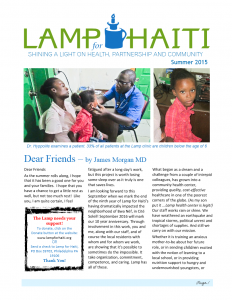 Dear Friends 
EMR Raises the Bar
Sakala: An Inspiring Partner
Special Program: Child Nutrition
This Lamp Will Soon Be Solar Powered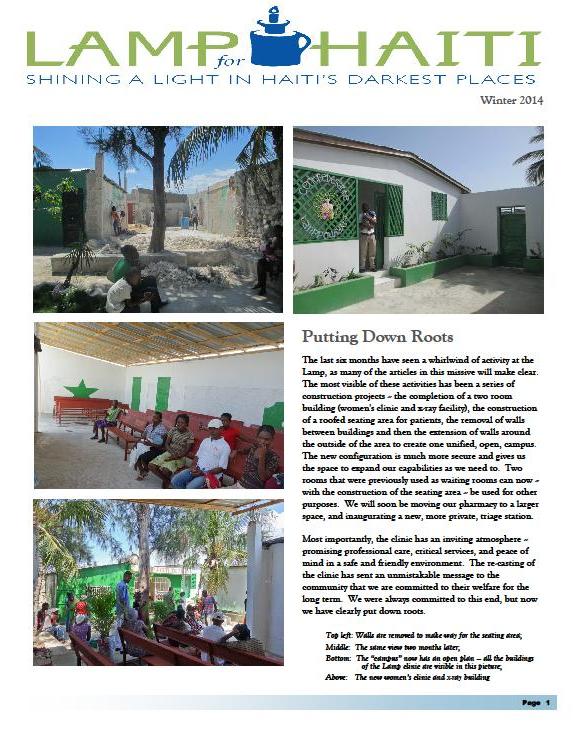 Putting Down Roots
The Process that is Lamp for Haiti
Women's Health Clinic Launch
A History-Making X-Ray!
Spring 2014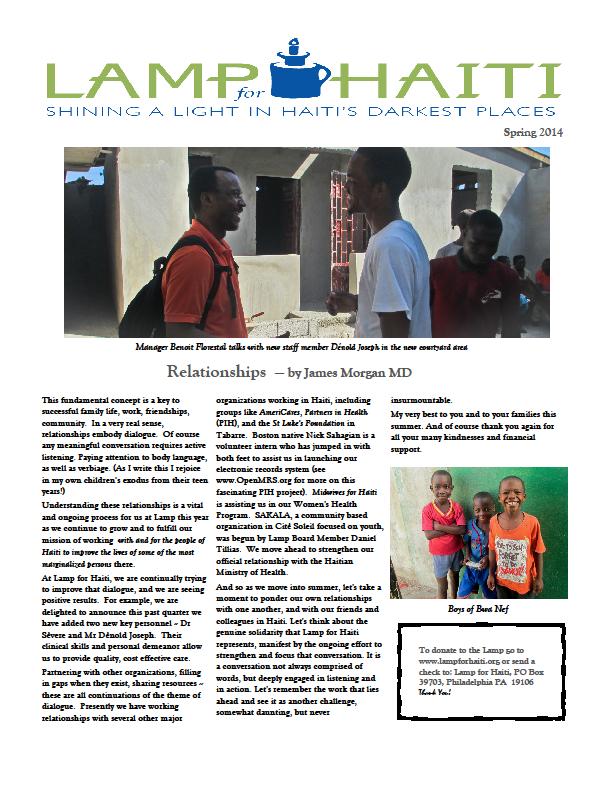 Relationships – by Dr Morgan
The Story of Benoit Florestal
Why Support the Lamp? by Richard Evans
Homegrown Expertise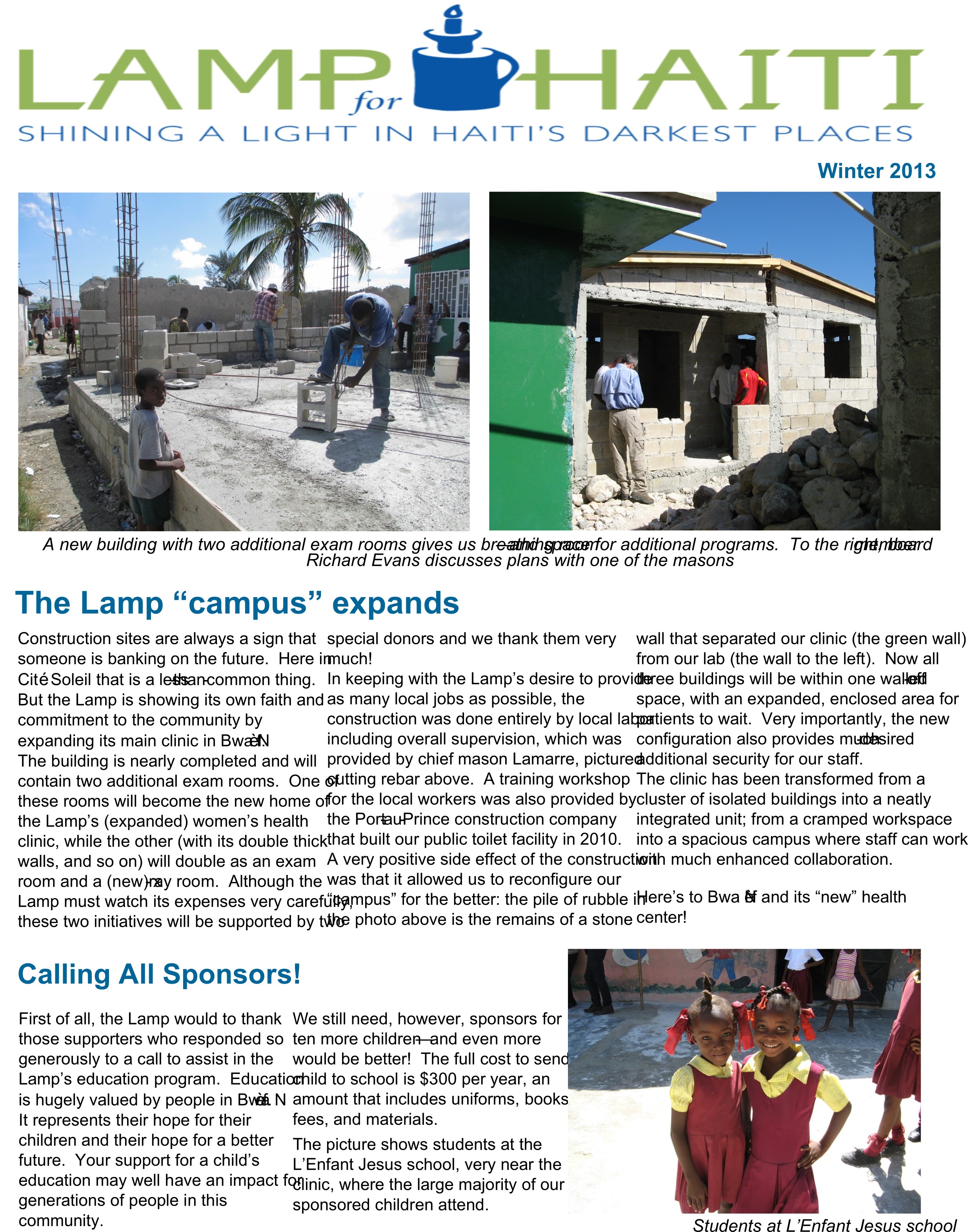 The Lamp campus expands
Calling all school sponsors!
A presence in Cite Soleil
A symbol of life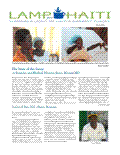 State of the Lamp 2012 — James Morgan MD
Voices of Bwa Nèf
Solidarity par excellence: Dr Barrère Hyppolite

Cite Soleil Heats Up
Rock Solid Staff
Training for Women's Health: A New Experience
Message from the National Program Manager
Dedicated Professional Staff Are The Backbone of Lamp
Lamp Gala 2019 Was A Success!
Additional Organization Accomplishments 2019
Why We Do This Work
Lamp News From Cité Soleil
Health & Hope 6th Annual Gala
Quality Equipment Delivers Quality Care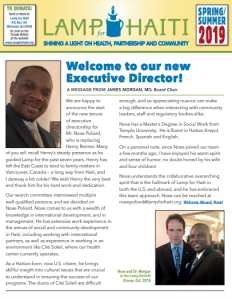 Welcome To Our New Executive Director!
New Health Informatics Specialist In Haiti
Spring Appeal 2019

Nutrition Program Expands,
Cocktails for a Cause fundraiser,
School Sponsorship Program: A Student's Progress

A message from Dr. Morgan,
The clinic gains ultrasound, Building community,                   Cocktails for a Cause fundraiser, 2016 fiscal year results

Working in the Community
Children are us! A new nurse and a growing Child Nutrition Program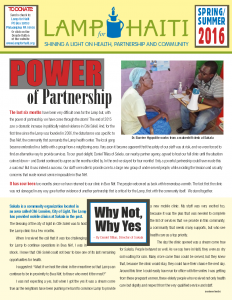 Power of Partnership Why Not, Why Yes — Sakala Director Daniel Tillias Letter from Haiti — James Morgan MD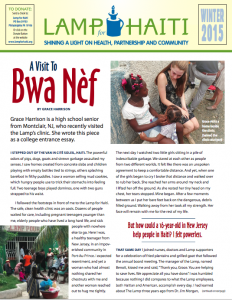 A Visit to Bwa Nèf – Grace Harrison Lamp 2015 — James Morgan MD The Story of Mr. Memnon — Barrère Hyppolite MD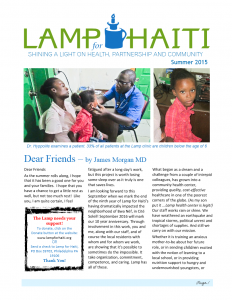 Dear Friends 
EMR Raises the Bar
Sakala: An Inspiring Partner
Special Program: Child Nutrition
This Lamp Will Soon Be Solar Powered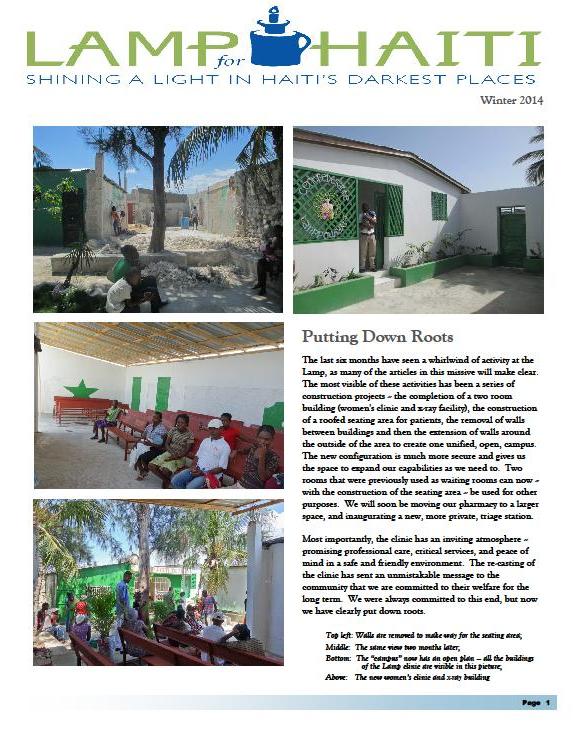 Putting Down Roots
The Process that is Lamp for Haiti
Women's Health Clinic Launch
A History-Making X-Ray!
Spring 2014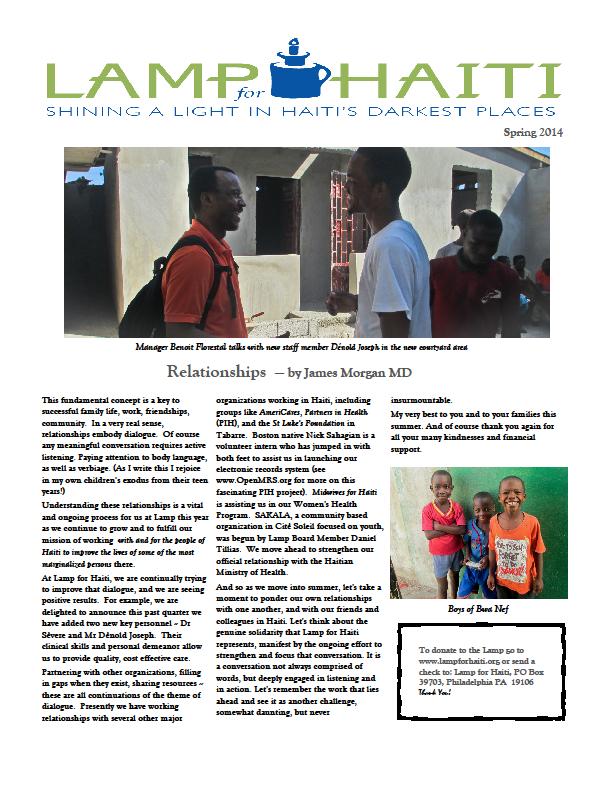 Relationships – by Dr Morgan
The Story of Benoit Florestal
Why Support the Lamp? by Richard Evans
Homegrown Expertise