The Lamp is very pleased to announce that it has been accepted as a partner in an excellent new program by the large US nonprofit AmeriCares.  It is a surgery and pediatric treatment program.  A medical unit has been set up in a downtown Port-au-Prince hospital, and will provide minor surgery and treatment to clients on a no-cost basis.   Our acceptance into the program means that we will be able to refer patients directly to the program.  Surgeries that can be provided include hernia operations, appendectomies, removal of ovarian cysts and others.  The program also offers treatment to children (and some adults) who are suffering from complications of malaria and typhoid, gastroenteritis and respiratory diseases.  To be able to offer a range of surgery and treatment like this is an unprecedented thing, a marvelous gift to the residents of Bwa Nèf (our community).  We are eager to take full advantage of these offerings!
But the program demands that we provide transportation for the patients.  Some of the interventions require four or five visits to the hospital and we are only too aware that our ability to provide this transportation is very limited.  Our current (single) vehicle is constantly in use and we simply must have a second vehicle to take full advantage of this program.  We must, therefore, move ahead with the purchase of a Toyota ambulance, as pictured  above.  But it is an act of faith on our part; our finances are already stretched as far as they can go!
Meeting with AmeriCares staff (below)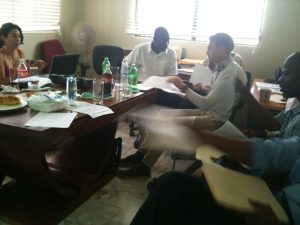 Your contributions to the Lamp have always resulted in the most direct assistance possible; they will be doubly appreciated now!  Please take the time to consider whether you are able to make a substantial contribution now.  Thanks in advance for your consideration and support!