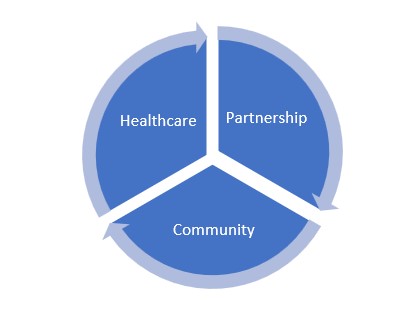 As we move through this year, we continue to explore the layers of Lamp for Haiti's tagline: Healthcare, Partnership, Community.  For me, Community is really what it's all about.
Our tagline is not just a series of three nouns, catchy terms akin to Xerox's "work can work better", or Guinness Beer's "Guinness is good for you". Those don't really tell you much about their objectives, their values or aspirations. One only knows that those companies are trying to sell you something.
I like to think of our tagline as a continuum, a cyclical process whose momentum is keeping us rolling forward, in both historic and contemporary terms. It's a process that started almost two decades ago,  with a few of us deciding that we would provide basic healthcare to a forgotten place.  After speaking about our work with friends, family and colleagues, we realized that we needed partners whom we could rely upon, and who felt in turn that we would be reliable too. Out of that partnering has come community.
Going back to those early days, we identified community almost solely in geographic terms; community referred to those residents living in Cité Soleil, in particular those in our Bwa Nèf zone, not far from Lamp Health Center. It was they whom we wanted to reach, and we did.  But our early success in delivering basic healthcare was revelatory, as we quickly and clearly saw the extreme lack of access to quality care for so many of our patients.  With intentionality, we expanded our healthcare services to include pediatrics, women's health and adult medicine. We added needed equipment, labs, drugs and social outreach.  We began actively seeking out partners on another level -- individuals like you, who wanted to participate and assist in our work, as well other like-minded organizations working in Haiti.
Today, however, a much-expanded understanding of community is the outgrowth of such efforts. We have seen the impact of Lamp spread to encompass a broader geographic catchment area in and around Cité Soleil. (This is even more acutely the case as we have been forced to work at more mobile sites bordering Cité Soleil, given the frequent security troubles in the capital today.) Moreover, community is seen in Lamp's staff in Haiti, whose families and neighbors are impacted by our economic impact related to their wages, as well as by the positive effects that gratifying employment brings. Community is seen when we talk with a parent of a sick child who has been treated at Lamp health center in the past, and now comes back to request (and expect) more of that same approach to quality care. Community was seen at our latest event in New Jersey, the Montclair Charity Ball, which introduced many new people to Lamp, people who had not previously heard of our work but who nonetheless were inspired as they learned about our work, and wanted to know about ways they might deepen an involvement and become a part of something bigger.
It's clear to me that the cyclic momentum of our triad tagline will -- if we remain open to it -- continue to push us to think about and to implement new and better ways to deliver quality healthcare to as many as possible. It's a positive momentum. It's a great community. Thanks for being a part of it.
- Jim