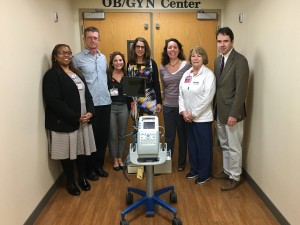 The Lamp is thrilled to announce that we have received a portable ultrasound unit, donated from Abington Hospital – Jefferson Health (just north of Philadelphia, PA).  An ultrasound unit has been at the top of our priority needs list for the women's clinic for some time now so it is a tremendous and timely contribution on the part of Abington Hospital!  In addition to its ability to monitor fetal health, an ultrasound device is able to diagnose a range of other health conditions; it will be a terrific asset to the clinic as a whole.
The Lamp will ensure that the unit will continue to do productive work for a long time to come!
Pictured (left to right) are:  Sabrina Harris (Senior Director, Diversity and Inclusion, Jefferson), Henry Reimer (Lamp ED), Jacqui Silverman, BSN ,  Pam Hawes (Lamp Treasurer), Bethany Perry, MD (Medical Director of the OB/GYN Clinic, Abington Hospital),  Barbara Schneider, RN, and James Morgan MD (Lamp Founder and Chair of the Board)
Huge thanks to Abington Hospital for this vital contribution and special thanks to Jacqui Silverman for initiating this very valuable connection between the Lamp and Abington Hospital.
November 18, 2016